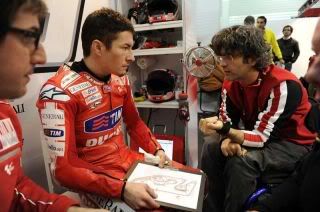 Nicky Hayden
told that
Valentino Rossi
practice time at Valencia Test should not be taken as reference. There is so much different between Yamaha and Ducati.
"It's always difficult to make such tests. In the case of Valentino, then, change is never easy, especially between two different bikes like Yamaha and Ducati. The fact Ducati moves much more than the Yamaha, is truly a special motion and the curve of addiction is very steep at first. But the faster you go the easier it is." Nicky Hayden explained.
"Smith knows what he does and also the people who are with him. If there was the race the next day I'm not saying that he would fight for the podium, but it would have been there with others. For me, when I arrived in 2009 was more difficult because I had to get used to the team, where they were all Italians, but now the environment is great and I was encouraged by the atmosphere that exists in the box. The mechanics of Valentino come to ask for things that do not know my parents. Everything works".
Next
MotoGP
test will be held at Sepang on February 2011. Valentino Rossi hopefully recover after surgery to make better result with Ducati